Cigna dental providers assure us of quality dental care. Cigna is a global health service company that caters to the needs of thousands of people and families around the country. Their dental health branch provides dental plans to help people get access to quality dental health care that they deserve. Cigna has a good network of dental care specialists that take care of plan holders. Their dental networks may be either a PPO network or an HMO network.
All in all, Cigna has partnered with more than 93,000 dental care providers all over the country. By visiting participating dentists, Cigna members can enjoy significant and immediate discounts. The dental providers who are part of Cigna's network are all reliable and provide high-quality dental care service to their patients. Even with discounted fees, they will give their patients the right care they deserve. Cigna has indeed done a good job motivating and giving compensation to their partner dental providers.
To better ensure that you are making the right choice, here are some of the questions you've been yearning to ask about the dental providers within the Cigna networks.
FAQ: Learn More about Cigna Dental Providers
How much can I save with a Cigna dental plan?
How does Cigna choose its dentists?
What rewards and incentives does Cigna offer to customers?
How does Cigna ensure the quality of care provided by its dental providers?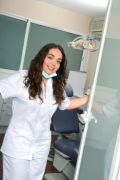 1. How much can I save with a Cigna dental plan?
Cigna makes sure that their members get dental care for an affordable fee. Upon membership, which only costs $134.95 per year, you already get reduced fees on your dental procedures including orthodontics. The most you can save is $1,099 on a full upper denture, so instead of paying $1,800, you can just pay $701. That's just one example of how much you can save by going to Cigna dental providers. These providers are already under contract to accept reduced fees as payment in full.
2. How does Cigna choose its dentists?
The entire Cigna network maintains its good name by getting only the best dental providers to join them. All dental providers go through a strict credentialing process. The dentists are first evaluated based on NCQA (National Committee for Quality Assurance) standards before they can enjoy business from Cigna's many members. The requirements include a state license, a legitimate graduate degree from one of the accredited dental schools, a certificate or a verification of their specialty training, professional liability insurance, malpractice and sanction history, a DEA or Controlled Substance Certificate, and a review of utilization data. Their dental facilities also undergo an onsite assessment to make sure it is safe, clean, and proper.
3. What rewards and incentives does Cigna offer to its dentists?
Cigna makes sure to get the best dental providers join its network by having a network rewards program for its dentists. This rewards system entitles the dental providers to some really good benefits from health and wellness, to office and dental supplies, to equipments, computers, dental labs, consultancy, website development, and even further training and continuous education. By keeping Cigna dental providers happy, Cigna also takes care of the needs of its members.
Cigna also makes sure that their dental providers get competitive fee schedules. Dentists and other dental specialists that belong to their network can enjoy the financial benefits of being part of the Cigna dental providers' circle especially when patients start pouring in. Fee schedules are also customizable so that every dental provider's needs are met.
4. How does Cigna ensure the quality of care provided by its dental providers?
Further evaluation of performance, credibility, and quality is required of the Cigna dental providers. This quality management program makes sure the dental providers' accessibility and performance is monitored, health and preventive care is promoted, complaints are reviewed, and member satisfaction surveys are measured. Also necessary corrective actions are applied to help maintain credibility and to prevent bias, and an automated tool is even used for this quality assurance measure.
The History and Philosophy of Cigna Dental Providers
Being a member of the Cigna dental network is a privilege and benefit any dental provider must look forward to. Cigna has established a good name in its field of service. Affiliated with the Connecticut General Life Insurance Company, it has been in service for more than 40 years now.
Aside from responding to the needs of millions of people, it gives utmost satisfaction and assurance. Their provider support system staff, the competitive administration, the continuously expanding market it serves, and the reasonable fees make it one great dental health plan company that satisfies both the dental providers and the plan holders.