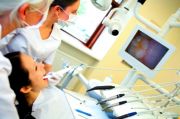 Dental assisting schools offer training programs for those who aspire to become dental assistants. The dental assisting job is an important part of the rather prestigious world of dental care. Dentists get a lot of recognition in the industry, but behind every successful dentist is an active, hardworking dental assistant who completes his or her tasks properly and conscientiously who keeps the clinic or practice working smoothly and eliminating causes for delay, hindrances, or any hassle in treatments.
A dental assistant can only be useful and beneficial to dental care if one has been rightly trained. The road to becoming a dental assistant isn't long and twisting. Several dental assistant schools offer specialized training and produces competitive and confident dental assistants.
Dental Assisting Schools and Curriculum – Training for Dental Assistants Overview
Required Academic Training for Dental Assistants
Short-Term of Part-Time Dental Assisting Training
The Standard Dental Assistant Curriculum
The Certification Program for Dental Assistants
1. Required Academic Training for Dental Assistants
The academic training required before becoming a dental assistant usually lasts between nine months and two years after high school. Preliminary college education is not necessary, but a high school diploma is.
You can get any of three honored qualifications: a certificate, an associate's degree, or a diploma. These may be received from community colleges, vocational schools, and schools that specialize in dental education, all of which should be accredited by the American Dental Association. These institutions should provide the right balance between theoretical knowledge and hands-on training and experience.
Certificate or diploma programs that last for nine months to a year are less costly than the two-year courses. These are not recommended, however, if you plan on seeking advancement in your dental assisting career. If so, take associate degree courses instead because they provide the necessary credits.
2. Short-Term and Part-Time Dental Assisting Training
There are some accelerated programs that can provide you with a certificate in shorter periods, but due to the wide range of responsibilities assigned to dental assistants, more and longer training means a wider range of skills and expertise, which can improve your chances of getting hired.
There are also some part-time dental assistant courses that are especially designed for those who want to pursue training for dental assisting while working another job.
3. The Standard Dental Assistant Curriculum
Regardless of what kind of dental assisting training you get or which of the available dental assisting schools you go to, dental assistant programs should meet a certain curriculum standards. The common courses found in this curriculum include dental science, dental anatomy, dental pathology, chair-side procedures, equipment usage, dental radiology for taking x-rays, pediatric dentistry, and four-handed dentistry among many others.
The classroom lessens should cultivate in an on-the-job training program for hands-on instruction and adequate familiarity with the equipments and procedures needed to be done in the dental office.
4. Licensing and Certification Program for Dental Assistants
After graduating, some states require dental assistants to get a license before they can get a job. License and registration is proof that the dental assistant has passed the standard requirements needed for him or her to practice the job.
However, there is another level, which is certification. Properly accredited training programs in dental assisting schools make dental assistants automatically eligible for the certification exam. The certification exam is your entry point towards becoming a CDA or Certified Dental Assistant. Although this is not a requirement to practice as a dental assistant, being a CDA does qualify you for higher salaries and more job possibilities. The exam is administered by the Dental Assisting National Board. Several states require certification in dental assistants, so this can definitely widen your job prospects.
Job Prospects of Dental Assistants
As a dental assistant, there are many job prospects waiting for you. Currently, the number of dental assistants in the country have reached almost 300,000. There are many opportunities waiting for dental assistants, and they also have a lot of options. If you are more comfortable working in smaller establishments, you may choose to work in private single-dentist dental practices. If you want to work in larger environments, you may choose to work in a hospital or larger dental clinics with multiple dentists.
Dental assistant job opportunities are also perfect for those who are prepared to take initiatives but also know how to follow instructions clearly. Dental assisting schools also train their students in multi-tasking since the job requires administration of several different tasks.