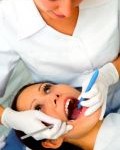 Cheap dental plans make great alternatives to the increasingly expensive dental insurance plans. That sounds confusing, especially for those who are not familiar with the discount dental plan option, an innovative dental insurance product that offers dental coverage at surprisingly low costs. A lot of people still think that the commonly used term "dental plan" is still another term for dental insurance. But since there is a new dental coverage option in the market that is more closely associated with the name "dental plan," then you should be aware of the significant difference between dental insurance and the cheaper dental plans.
If you just take your time exploring the market of discount dental plans, you will be surprised at how affordable they are. The cheapest goes as low as $79 for an entire year, with most costs averaging at $130 or $150. And if you check out the family offers, you'll be even more surprised. You can add your entire family to your plan and only add around $30 to $50. Now, this is an all new definition of affordable dental care.
But if the dental plan alternative offers lousy coverage, it wouldn't catch on despite its very tempting price. But the point is, discount dental plans provide excellent coverage despite the cheap prices they charge. And this is primarily the reason why these discount plans have become the hottest alternatives to expensive dental insurance. Still skeptic? Here are more details on what you will get from a discount dental plan.
Discount Dental Plans: The Ultimate Cheap Dental Plans Option
The common coverage package
The special benefits package
How to avail of discount dental plans
1. The common coverage package
Most discount dental plans are very clear about which dental procedures they cover so there won't be any confusion for those who are shopping for dental coverage. Some cover only basic, some packages include basic and major, while some also throw specialist care into the mix. Some dental plans also include cosmetic dentistry and orthodontics, while some cross the line there. The mix of coverage varies greatly, and there are quite a lot of discount dental plans to consider.
You will also commonly see discount plans offering anywhere from 50% to 80% discounts off basic dental procedures. Some even offer free routine care such as x-rays, cleanings, and checkups. Also, most plans set their discounts for the specialist dental procedures at 25% max.
2. The special benefits package
However, aside from the common coverage package offered by most dental plans, some dental plans go even farther by offering a host of special benefits to its members. Some discount dental plans in the market are able to provide you with healthcare benefits such as discounts on prescription drugs, vision care, hearing care, chiropractic care, behavioral treatment, physical therapy, among many others. Some plans even offer 9 different add-on benefits; these are the best cheap dental plans  you can avail of.
3. How to avail of discount dental plans
Yet another benefit of the cheap dental plans option is how easy it is to avail of the plan. A discount dental plan is sometimes referred to as the discount membership plan. Instead of becoming a planholder of an insurance plan, you become a member of a group wherein members are entitled to discounted dental rates as special privilege. As a member, you just have to pay a yearly membership fee, which is surprisingly very cheap considering that membership already means you get discounts on dental care for an entire year.
The Biggest Differences between Cheap Dental Plans and Classic Dental Insurance
There are many differences between cheap dental plans and the classic dental insurance that's been around for quite some time. Rather the radical version, dental plans eliminated several aspects of the insurance plan, such as the premiums, the deductibles, and the annual maximum limits on benefits. This means you can get all the procedures you need and still receive discounted rates as negotiated for you by the dental plan you joined. These are the biggest differences between these two options, and clearly, the cheap dental plans are winning the race.