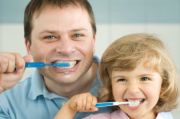 Kids dental insurance is one of the best, most practical, and most beneficial gift parents can give to their kids. By giving your kids health insurance, you can ensure that they get health white teeth. This can help improve their confidence and self-esteem and may even have a benefiting effect on their performance at school and ability to get along well with others.
Plus, good dental hygiene and health should start early in life. If you suddenly decide to take good care of your teeth in your 20s or 30s but have mostly ignored them in the past, you'll surely have a lot of problems to deal with like cavities and plague you didn't even know about. By then it might be too late, and you probably have to worry about repairs rather than maintenance.
So if you give your kids dental insurance plans, they can start caring for their teeth early in life. This great foundation will definitely save them from a whole lot of problem in the future.
How to Get Dental Coverage for Your Kids
Coverage Under Your Own Plan
School or State Programs
Private Dental Insurance for Children
1. Coverage Under Your Own Plan
Your first option, if you're thinking of getting dental insurance for your kids, is to check what provisions there are in your own plan. If you have your own dental insurance plan, chances are there is coverage included for dependents. Even dental plans sponsored by employers sometimes include additional coverage for kids. You can simply get an extension from your own plan, which will save you money and all the hassle of searching for a new plan.
You also have the option to get a family or group plan so you can include multiple kids and save a lot of money.
2. School or State Programs
Aside from that, you can also check out offers from your kid's school. Ask if they offer kids dental insurance for their students. Some schools run free programs that provide basic dental coverage to help ensure kids' health.
If not the school, you can also consider free programs being offered by different states or counties. For example, Colorado holds a sealant project that is held in different schools to help kids receive proper oral care and help keep tooth decay and other problems at bay.
3. Private Dental Insurance for Children
Your third option is to get a separate private dental insurance especially for your children. Searching for a dental plan for kids is not the same thing as getting a plan for yourself.
The dental insurance coverage needed by children don't have to be comprehensive. Children's teeth are still temporary. What's important is that you teach them proper care for teeth and instill in them the value of proper dental hygiene. You don't have to get coverage for dental surgery, dental implants, crowns, bridges, and so on. Your kids just need basic coverage, which will give them regular checkups and cleanings.
Of course, the age of the kid and the state of their teeth also affect what kind of insurance you should get for them. If your child is nearing his or her teens, he will most likely have grown all his or her permanent teeth. Thus, you will already get a good view of what his or her teeth are like. At this point, many parents usually decide to get braces for their kids. So for insurance for adolescent and teenage kids, coverage for braces would be particularly helpful.
Most Important Dental Procedures Kids Dental Insurance Should Include
When choosing the best and most helpful dental insurance for kids, it helps to know which dental procedures you should prioritize and include in the coverage. If you want to save and find a low cost insurance plan, it is important to choose only the most important procedures.
Kids will need basic preventative procedures including cleanings, sealants, and fluoride treatments. Try and look for dental plans that offer free cleanings.
And as a final reminder, remember that the monthly premiums are not the only costs you will pay for a dental insurance plan. Don't buy kids dental insurance based on the cheapest premiums you can find. What you should do is compare the premiums and the deductibles so you know the true costs involved in the said plan.