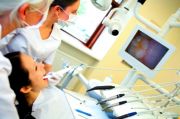 The dental lab technician plays an important role in dental care. Lab technicians, in dentistry, are the ones who create crowns, bridges, dentures, false teeth, and so on that are used to complete tooth replacement and restorative treatments. The dentists can diagnose, make impressions of the patient's teeth, create a mold, and apply the treatment, but they do not make the actual prosthetics and other devices.
Without dental technicians, a huge number of dental procedures will not be completed. This is a highly recognized profession that also gets the prestige often associated with the dental field. If you are interested in the said job, here are a few things you need to know.
What You Need to Know to Become A Dental Lab Technician
1. The Nature of the Job
The dental technician job is a specialized one. It requires manual skills, knowledge in the use of hand equipments, and an artistic ability. Usually, materials used include porcelain, plastics, stainless steel, gold, and silver, so manual dexterity in handling such materials is also required. An eye for details and the ability to carry out instructions exactly are very important since they will have to create based only on the instructions of the dentists and the work they do pertains to a most important part of a patient's body. Without dental lab technicians, dental patients won't be able to reclaim the normal condition of their mouth.
Dental technicians only work with dentists, and do not often come into contact with patients. If you wish to be a dental technician, you should not mind staying in one place for a long time and working alone.
2. Dental Technician Training
Aside from skills and expertise, a dental technician requires thorough training. Subjects that may come in handy for the job include biology, anatomy, physiology, algebra, chemistry, art, sculpting, computer skills, health education, and geometry, among others.
Those who wish to be dental technicians should have a full high school diploma plus a two-year certificate or associate degree in a dental technician program under the accreditation of the Commission on Dental Accreditation. This kind of training background can help you get a job and raise your salary more quickly. This training can also enable you to choose a particular area as your specialization. You may decide to focus on creating crowns, bridges, or ceramics, or specialize in making dentures. You may also specialize in making braces.
A full college degree is not really necessary for this job. You do also have the option of undergoing a 5-year apprenticeship program instead of the certificate or associate degree.
Finally, prior to certification, the candidate has to undergo an examination conducted by the National Board for Certification in Dental Laboratory Technology.
3. The Workplace – Dental Laboratory
Once you pass the exam, you become an official dental lab technician. As implied, your work will be mainly situated within a laboratory, where you will have to work with various dental equipments. There are a lot of dental laboratories around, and usually, one laboratory will hire only five technicians.
But if you have a dental laboratory technician certification, you can also apply in private dental practices as in-house technicians, in hospitals, in dental schools, or in the military. You may also seek opportunities in some manufacturing companies that produces prosthetics in general.
Lastly, in accordance with the emerging trend, you may also choose to work on your own terms, through self-employment and sourcing out your skills as a freelance lab technician. This does mean, however, that you would need to find your own equipments.
Job Prospects for Dental Laboratory Technicians
New and aspiring dental technicians don't face highly positive prospects since the profession has a pretty limited size, and opportunities, though present, don't necessarily abound. According to the records compiled by the US Department of Labor, the dental technician profession experienced a growth of just between 3% and 9% over a period spanning almost a decade.
However, dental lab technicians nevertheless face a promising career once they get settled in a particular job. This is one job that won't go out of circulation and will always be deemed crucial to the dental field, however slow its growth may be. As long as there are people who need restorative and replacement dental procedures, they will have a place in the labor field.