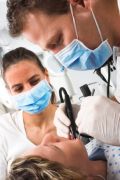 Dental implants fall under the prosthodontics specialty, a dental specialty that involves any kind of dental prosthetics or prosthetic dentistry as a form of tooth replacement or restoration. If you need implants, you can't just go to any dentist. You have to go to a prosthodontist, a dentist with a specialization in this particular specialty. Due to the special training this requires, the materials needed for the implants, and the extensiveness of this procedure, implants can be very expensive.
If you are in need of implants to replace lost tooth or teeth, you can get them at discounted prices by applying for some dental plans that cover prosthodontics. The search for these dental plans can be tricky, since different plans use different standards in considering implants. Some consider implants as cosmetic dentistry and do not offer coverage for the treatment. Some, however, cover prosthodontics. Some also cover prosthodontics depending on the cause for the tooth loss.
If you are searching for dental plans that cover dental implants, here are some of the best options.
Dental Implants You Can Afford Thanks to Dental Plans
Avia Dental Plan
Solstice Plus Plan One
Careington Select Plan
Affordable Family Health Services
1. Avia Dental Plan
Avia Dental Plan is a cost-friendly dental plan that offers discounts reaching up to 70% on various dental procedures. Avia offers coverage for specialty procedures including prosthontics. However, this coverage is covered only up to 25%, so it just means you get 25% off your dental implants.
Additional benefits from Avia Dental Plan include a vision and a prescription plan. You can also enjoy unlimited dental benefits every year; just present your Avia membership card. Anyone can sign up for the plan for just $124.95 per year and $169.95 per year for individuals and families. Individual members can sign their dependents up with no age limits.
Under this plan, you are also free to choose from the participating dentists where to go for your specialized implant procedure.
2. Solstice Plus Plan One
Solstice Plus Plan One is a light-on-the-pocket dental package that can help you get the dental care you need. Solstics Plus Plan One offers coverage for cosmetic dental procedures and restorative services, something not lightly offered by several other dental plans. This already includes dental implants which are covered up to 25%.
There are also additional benefits from Solstice Plus Plan One. This plan offers two free oral exams and two free cleanings every year. And thanks to its "open access" system, you can go to any dentist you want. In fact, if you enrol your entire family, each member is given the privilege to choose his or her own dentist.
3. Careington Select Plan
You can also check out Careington Select Plan. Careington Select offers a healthy coverage reaching up to 50% not only on basic procedures but also on some major procedures. Cosmetic dentistry procedures, which include dental implants as well as bonding and veneers, are also covered. The coverage for prosthodontics is up to 20%.
If you avail of the Careington Select Plan, you can also be assured that you receive care from dentists chosen based on meticulous credentialing standards. The Careington Select Plan is available for only $114.95 per year for individuals and $169.95 per year for families.
4. Affordable Family Health Services
You can also slice 25% off the total cost of dental implants if you are a member of the Affordable Family Health Services dental program. This dental plan offers 25% to 60% discounts on dental procedures; higher discounts are given on basic dental procedures to encourage preventive dental care. However, to help meet your needs for specialty procedures such as prosthodontics, the dental plan offers 25% off from specialty procedures.
Other benefits you will receive as a member of Affordable Family Health Services dental plan are vision, chiropractic, and prescription discounts. All discounts are yours if you just present your membership card.
What Affects the Cost of Dental Implants?
The costs of dental implants are generally high. There are many factors that are included in the computation of the cost of implants. When you seek an implant procedure, you will pay for the material of the implant itself, and this price will differ depending on your choice of implant type.
Aside from that, the cost will include dentist's fee and fee for the surgery including additional services fee if necessary. If you need any extractions or bone grafting procedures, you also have to pay for them.