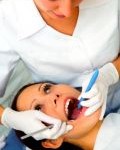 A dental assistant is necessary in any dental clinic. However skilled a dentist may be, he or she cannot possibly do all the work in a dental clinic. Although all work needed in treating patients are done by the dentists, in any dental clinic setting, there are plenty of other tasks that need to be done such as cleaning, sterilizing, arranging, and preparing the dental instruments, scheduling patients, keeping the dental clinic clean, and so on. All these duties cannot be done by a dentist who will be busy taking care of the patient's teeth. This is where dental assistants come in.
Some people get a bit confused between a dental assistant and a dental hygienist. These are not the same person. A dental hygienist is like a dentist but is only trained, certified, and licensed in conducting dental treatments that have to do with preventive care. A dental assistant has an entirely different set of responsibilities. If you think you have the skills needed to become an effective dental assistant, here are the answers to more questions you may have about actually becoming one.
Questions on Becoming A Dental Assistant
How do you become a dental assistant?
What are your duties?
What procedures are you allowed to do?
1. How do you become a dental assistant?
It is not difficult to become a dental assistant. You do not need a formal academic training to become an assistant of a dentist. There are no formal courses in universities that you need to take before you can take up a dental assisting job. There are, however, some community colleges and technical dental schools that offer education and training in becoming an efficient and highly capable dentist assistant, but the training usually only lasts for a year. Although this is not always a requirement for getting hired as a dentist assistant, it will increase your employment chances over other competing applicants.
However, you can easily become a dentist assistant even without such education and training. In such cases, you will simply learn on the job.
2. What are your duties?
The name of the position itself already says a lot about your role: you will assist the dentist. This means that you will provide help and assistance in whatever it is the dentist will do. Aside from that, you will oversee the general care of the dental clinic. This will involve tasks already mentioned earlier such as organizing, keeping, sterilizing, disinfecting, and preparing all the instruments that the dentists use. At times when dentists need specific instruments or equipments, the dental assistant has to hand these to the dentist to make the dentists' work more efficient.
Record-keeping is another important role that dentist assistants take up. An assistant has to organize and update the dental records of all the patients of the dentist. They are also responsible for following up on the treatment plans of various patients and contacting patients who are already due for a checkup or a new appointment. They can also assist the patient in various non-procedural treatment needs, such as applying topical drugs and so on.
3. What procedures are you allowed to do?
Dental hygienists are allowed to conduct various preventive procedures. This is the difference between dental hygienists and dental assistants. Assistants are not allowed to conduct any type of dental procedure at all. At the very least, they can remove sutures or conduct x-rays but they would need the supervision of a licensed dentist for this.
Where Can You Get A Job As Dental Assistant?
Dental assistants do have an edge over dental hygienists. The dental assistant job post is more commonly needed in dental clinics, hospitals, private clinics, school clinics, company clinics, and so on than the dental hygienist job. And if you can do the job of a dentist assistant, you can also check out the job opportunities in federal dental clinics.
A lot of open dentist assistant jobs these days are part-time, so this is another advantage. You can work as a dentist assistant on the side while you maintain another career. This helps you to earn extra money while working in a well-lit, very clean, and highly efficient work environment. If you decide to become a dental assistant, you won't run out of work opportunities.